Have you found one of our Geocoins? Please log here and please don't forget to place it somewhere else.




Unsure what it's all for? Please read the F.A.Q. below.
Click here for our tracking history page showing data from Geokrety.org about how all our coins are doing around the world.
Frequently asked Questions (F.A.Q.)
1.
Q: What's a Geocoin?
A: It is something that people that like geocaching have placed in a geocache with the hopes that it will travel places and the people that placed it there can enjoy tracking it online.

2.
Q: What is geocaching?
A: If you found our geocoin in a geocache then you probably already know. If you found the geocache by accident please read on to learn more. Geocaching is a fun activity, perfect for families and especially children. You can use dedicated GPS units or even many modern cellular/mobile telephones that contain GPS chips to do this activity. Geocaching.com lists thousands of geocaches and allows you to retrieve the co-ordinates to put onto your GPS or allows you to transfer them directly to the unit.

3.
Q: What do I do?
A: The Szerminski family, especially the kids Lucy and Miriam would really appreciate if you could log that you found one of our geocoins (
I've found GeoKret
on the tracking page) and place it in another geocache somewhere else (
I've dropped GeoKret
). Please don't forget to record the tracking number before you drop it so you have it when you return to log it on the internet (If you're logging it online using a cell/mobile phone outdoors then you don't need to worry). Our hope is that our geocaches will travel the world and go to exciting places.
Here is dad on November 20, 2013 with our newly made geocoins. After the girls receive these coins at Christmas we will post the picture here. It will be the last time the coins are all together in the same place.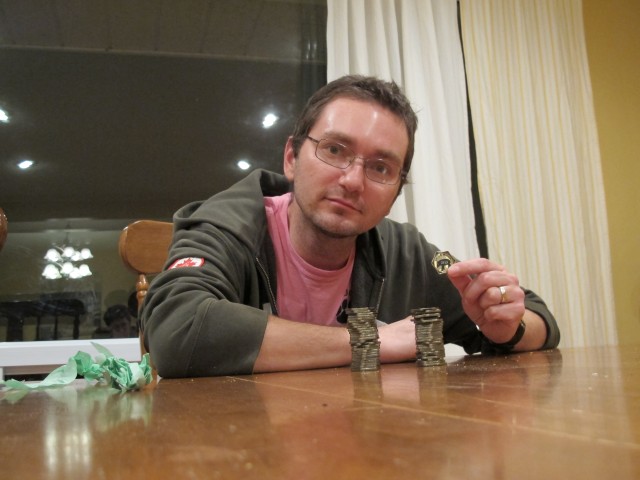 Are you interested in making a custom geocoin for your own family? We had ours made in Canada by a business that does engraving. Email us (bottom of page) if you want more info.
For Christmas 2014 we also received 3 travel bugs and a travel bug car sticker trackable on geocaching.com. See their progress here: Bug1, Bug2, Bug3, Car
Other Fun links
Amy and Rick's European Vacation of 2000 Amy and Rick's Galapagos Islands Trip of 2005 What's a Rowbike? Family Photos/Videos
Solar System Geocaching Puzzle
Questions? Please email dad (szerminski@gmail.com) or mom (szerminska@gmail.com)