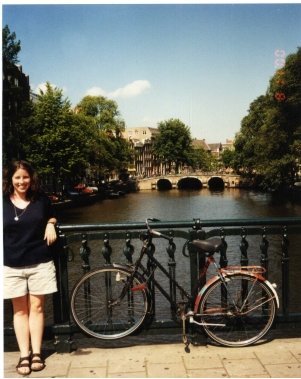 Our last stop on our trip was Amsterdam. What a beautiful city. There's thousands of bicycles all over the city, as bikes seem to be the preferred method of transport. Amsterdam is also the gay centre of Europe. We went to see the Homomonument, which is a monument dedicated to all those oppressed because of their sexual orientation. We also saw the statue of Anne Frank.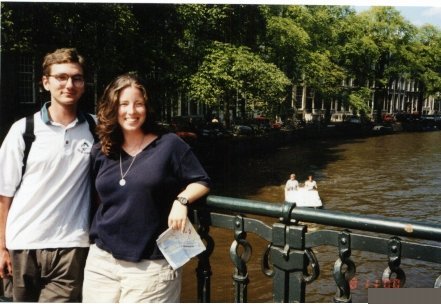 Here's Amy and I by one of the city's many canals. Amsterdam is actually below sea level and exists as dry land thanks to dams. These canals are cool, tours go up and down them, but so do people on little boats that they own. In our wanderings we wandered into the red light district by accident (although we were planning to see it at some point anyway). Very weird. One man was shouting loudly from a store, "Quality filth and smut in a classy environment." I guess Amsterdam is the place to go when you need quality filth.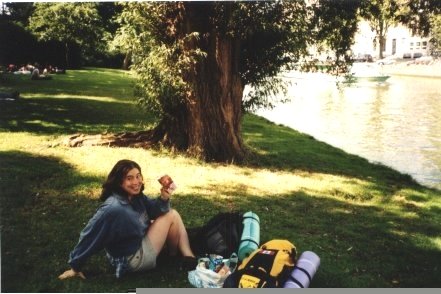 Amy drinking "Vla" in a lovely little park we sat in by a canal. We thought we had bought chocolate milk, but Vla was actually a thick liquid, a little thinner than yogurt, but definitely more viscous than milk. We had the Holland specialty too --- salted licorice.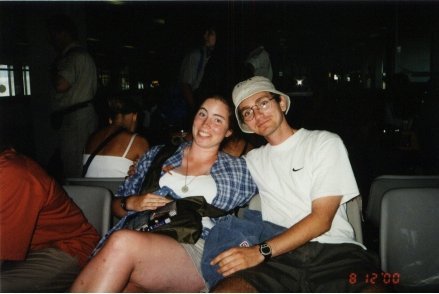 The end of the trip. Amy and I are waiting to board the plane. Two months had flown by in the blink of an eye. Travelling changes a person. I can't wait to go back.