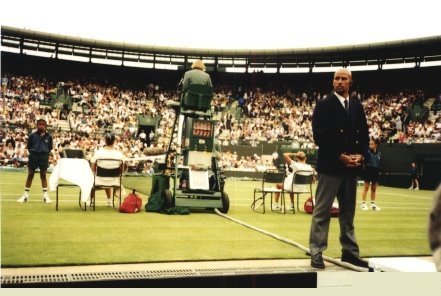 The next part of our journey took us back to London. The mission was to stand in 'The Queue' overnight and thus achieve Wimbledon tickets. The train ride from York to London took 6 hours (due to by now expected unexpected delays). Our latened arrival thrusted us into the King's Cross train station after midnight. This was fine except that The Underground (the subway) is closed by midnight and we had to arrange alternate transportation. Alternate transportation consisted of i) traveling on a bus going in the wrong direction for 15 minutes (due to gratuitous information provided by an Underground Staff) ; ii) traveling on a bus to get back back to where we started and then a little closer to Trafalgar Square; iii) an approximately one kilometer walk to Trafalgar (with backpacks -- that's equivalent to about 10 km without backpacks); iv) walking around Trafalgar to find the right bus stop (there are about 12 to choose from all around the square, as Murphy would have it we found the right one last); v) taking the bus to Wimbledon; vi) getting off the bus in the 'Wimbledon district' miles away from The Queue, and not at all sure we were still in London, let alone in the Wimbledon district; vii) wandering for about 2 hours; viii) seeking assistance from a drunk wandering man named Charlie; ix) Charlie stumbling into a wrong turn and forcing more extraneous kilometers upon us; x) Charlie guiding us to the Queue. Arrival time at the Queue: 3:30 am. We then collapsed in our place in the queue and proceeded to nap on the warm comfortable cement sidewalk, to be fresh and ready to go for the first Thursday of the fortnight of Wimbledon! Our efforts were not at all wasted as we managed to receive front row tickets for Court #1. In the pic you see defending champion Lindsay Davenport taking a breather on the changeover while playing this Russian chik named E. Likhovtseva. The big man in the picture is the Enforcer that would come out on the changeovers. He would robotically rotate his head from side to side ensuring that the peace was kept. We also saw Y. Kavelnikov lose to T. Johansson (big upset) and M. Philippoussis crush A. DiPasquale with his serve.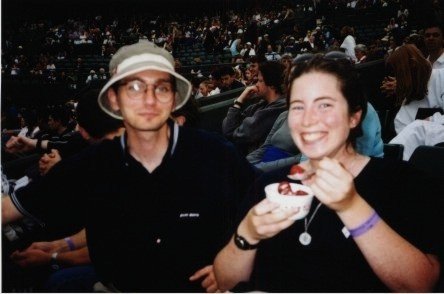 Ah, the Wimbledon Strawberries and Cream. At 50p ($1.25) a strawberry they're a steal! Doesn't Amy look cute though, enjoying Wimbledon's oldest traditional food?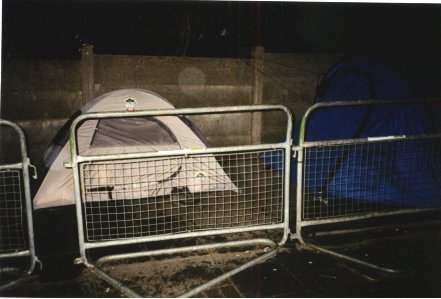 Upon completing viewing a wonderful day of tennis, it came time to think of repose. We weren't overly excited about going back to central London to our wonderful aforementioned "Millennium Hostel" so we figured we'd just camp out in the Queue again, pretending we were waiting to get tickets for the next day's matches. This was a good idea except not. Of course the two of us had to fit into our little 0.5 person tent -- plus our tumors (i.e. backpacks). This would be fine except that when you have so much stuff with you it will press against the walls, and tents are only waterproof so long as there aren't things touching the sides. And of course it rained hard all night. We almost died of the cold. In the morning other people queuing beside us thought that we were crazy because we packed up our stuff and left the queue without actually buying tickets.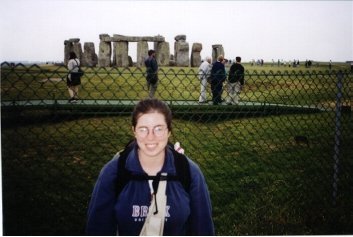 Amy at the Damn Rocks. This is sometimes known as "Stonehenge". But when you've spent the previous night in a constant shiver preparing for death, and now you are tired and grouchy, it is just the Damn Rocks. We didn't actually pay to see the damn rocks, our logic to follow. If you pay to get into the Damn Rocks you cannot actually get closer than about 20 metres. When you don't pay you are about 5 metres further back than the kids who paid. So we figured we wouldn't pay. We later found out from our friend Irene who went to the Damn Rocks later that summer that paying is a worthwhile deal because of the audio guide you get. Ah well, they're just Damn Rocks anyways.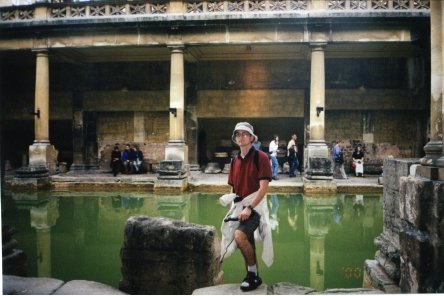 Rick at the Roman Baths. Very very cool. The water you see there was quite warm due to the still active sulfur springs that heat the water. I kind of think it is a little unfortunate though that you can't use (i.e. sit in) the baths anymore. The baths were used in both Roman and Victorian times. The water is green because of algae. During Roman times there was a roof over the baths which prevented photosynthesis and thus the water was not green.
The city of Bath was kind of cool altogether too. We were there for Canada Day, and we got drunk with a bunch of Canadians and surprisingly friendly Americans at the hostel's pub. Great time. Amy and I were in the 'Country and Western' room, and Amy slept in Dolly Parton's bed while I slept in John Denver's.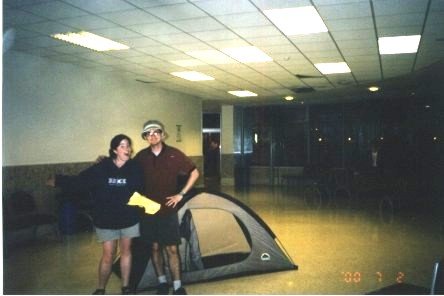 Did we mention that thing's don't always turn out exactly as planned? Or that surprises do occur? Well, when we arrived in Holyhead where one takes the ferry to Dun Laoghaire (pronounced Dun Leary) we thought we'd be on the boat at 10 pm. Instead we had to wait till 4 am for our boat. Fortunately, this provided ample time to dry our tent which was still soaked from Wimbledon. We met another really nice girl named Amy from North Carolina there. With our tent set up drying, Amy sewing a bed sheet, North Carolina Amy eating food, and me spread out on chairs snoozing, a drunk passing Irishman noted, "What do you guys have setup here, a freaking commune?" It sure looked like it.