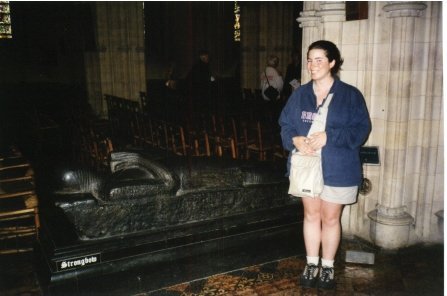 The first place we visited in Dublin (after finding a hostel) was Christ Church Cathedral - a beautiful old church right around the corner from our hostel. We were surprised to find the tomb of Strongbow near the door, and immediately took a picture since it reminded us of our great pal Emily DiBattista who drinks Strongbow cider religiously. I'm probably pretty exhausted in this photo, since I hadn't slept much the night before what with the 4:00 AM ferry! We attempted later that day to find out what time we could get a train to Cork. Rick was stunned when the woman at the train station said there was only one train to Cork, and that it would only take us part of the way after which there would be a bus. This seemed a little unreal, since our guidebook said there would be about 8 trains a day to Cork from Dublin. Rick then asked a question about a train for the following day, and was told that he should call back later since the information was not presently available. Having just come from England where the train service was superb, we couldn't understand what was going on. The next day we found out the reason for the terrible train service - there was a strike in progress. It blew our minds that the woman at the train station had not communicated this to us, and Rick made a resolution to ask double the number of questions next time. For any of you who know Rick, you understand that that equals a tonne of questions.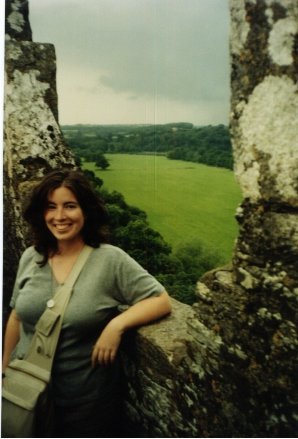 After arriving in Cork, we settled in to a hostel called Sheila's and then set out immediately for Blarney Castle. It was about a 20 minute bus ride from Cork, and we were thoroughly impressed! The castle houses the famous "Blarney Stone" that people come from far and wide to kiss - it is said that kissing it gives you the "gift of gab," or in some circles it is said to give you "the privilege of telling lies for seven years." Whatever the case, I was not leaving Ireland without having kissed it, so that was our reason for going to Blarney Castle. We didn't immediately join the queue for stone kissing, and instead explored the gorgeous grounds. The area around the castle is as magical as the stone itself, filled with interesting paths that wind through lush gardens. There are several curious structures such as the "Witch's Kitchen" which is a fireplace built under the roots of an enormous tree. Everything was incredibly green, but then all of Ireland was green! We waited in line for about an hour to kiss the Blarney Stone. The line winds up tiny old staircases within the castle - nothing is roped off and everything is falling apart. Nowhere else we visited allowed such free reign to visitors. The castle is in no way maintained, and has instead been allowed to "naturally" fall apart. According to those who run it, it is to maintain the authenticity of the place. According to some of the customers, it is to save money in repairs.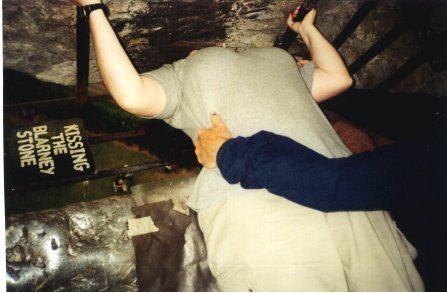 We got a bit nervous waiting to kiss the stone, because it started to rain a bit. Thankfully, Blarney doesn't stop for rain and we were given our chance to pucker up. The stone isn't easy to kiss - it involves leaning back out over a ledge on the roof of the castle. In this picture you can see some people down on the ground through the bars. Beside the stone is an old man who spends his whole day holding on to people kissing the stone. Rick is convinced that the old man has this job so that he can spend his days holding on to girls' waists and leering at their breasts. I had no argument for that.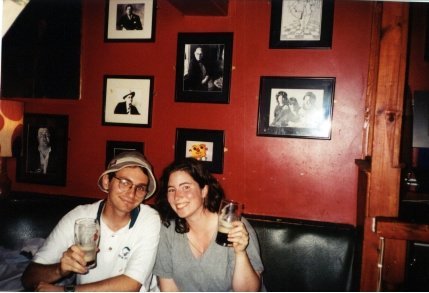 Upon our return to Cork, Rick and I decided to go to a pub. We had a choice of about 400 pubs, so simply chose the closest one. It was called Sin e and provided us with a few delicious pints of Murphy's. The people at the bar were extremely friendly, even coming over to say good-bye to us when they left. One of the funniest things was that two guys at the bar were drinking Budweiser. Rick asked them why on earth they would drink such a thing, and they replied that they weren't drinking. Apparently when people in Ireland aren't drinking, they drink beer like Bud, and when they are drinking, they drink the good stuff. One of the best things about Sin e was that it had it's own dog. Her name was Millie and she had been rescued from the river a couple years earlier. The owner had adopted her and she had the run of the place. We were unable to get a picture of Millie at the pub.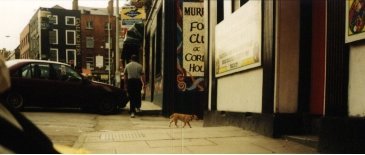 The next morning, while eating breakfast on the curb (something we did often), we were totally surprised and lucky to see Millie walking down the street like she owned it as well as the bar. I was lucky enough to snap this shot before she ran around the corner. We decided later that day to hightail it out of Ireland since our rail passes were going to do us very little good because of the strike. After a failed attempt at getting to Belfast (more bad train information) we stayed one more night in Dublin. The next day took the ferry back across to Holyhead and went on a marathon train ride to Edinburgh in Scotland.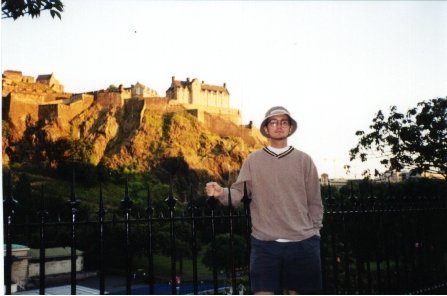 We arrived in Edinburgh to find beautiful blue skies and a gorgeous sunset. This is a picture of Rick with the castle in the background at sunset. I had been to Edinburgh with my Grandma before Rick's arrival in Europe, so I sent him out to see the castle while I did more exploring on my own. This is, without a doubt, one of my favourite cities in all of Europe. Our hostel - Princes Street Hostel - was really fun, with the only drawback being that it was 77 steps above the street. The steps posed no problem except when we had the backpacks with us. (By this time we had developed something like hatred towards our packs, and our primary objective upon arriving in each city was to get them off our backs!) We met some local students at a pub in Edinburgh and they enthusiastically invited us to their table and bought us [too many] pints. Our trip to Scotland included a trip to Inverness which is much farther north than Edinburgh. The train trip in itself was fantastic, winding through gorgeous green mountains and past countless sheep! We were disappointed that we couldn't stay longer in Scotland, but we had to get out of the UK and onto the continent before our UK-Ireland Eurail passes ran out.