After Paris I went by myself to Bordeaux. This sounds exciting but in actuality was not exciting at all. Why? Simply because wine making is as visible in Bordeaux as it is in my hometown of St. Catharines. Near St. Catharines there is lots of wine growing going on, but you don't see this when walking down Geneva Street. I took a very over-priced tour that featured for tasting in total the equivalent of about a half of glass of wine. Next I went to Geneva. This is a picture of Gaby Steffen, a Swiss friend. I met her while she was an exchange student at Sir Winston Churchill high school. She showed me around Nyon, a lovely town 10 minutes by train from Geneva. Geneva was very nice too - lots of pretty gardens.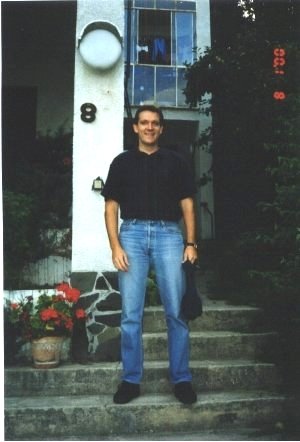 This is a picture of Jan Hergott (His friends call him Jano) in front of his home in Bratislava, Slovakia. Martin Snajdr (my Slovakian friend that used to go to Brock University, and then left for the University of Alberta) set me up so that I could stay with Jano. Jano was a great host. Being good friends with Martin, he told me lots of interesting stories that I will use to embarrass Martin in the future, when a maximum number of people are present. We went out with Jano's buddies from work for beers as well.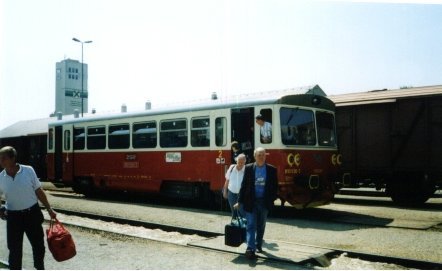 Whereas every other train I took around Europe was quite big, with many cars and a separate engine car, the train going from Vienna to and from Bratislava was just one car, including the engine.