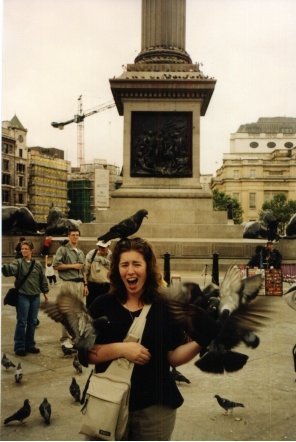 Rick and I met in London on June 21st at the statue outside Victoria Station. Almost. Since I had been in England for a week already, I asked my Grandma and her cousin if they knew a good place for Rick and I to meet in London. They assured me that there was a statue outside the train station where we could easily find one another. No such luck. After a fruitless trip around the outside of the station looking for this "statue," I finally discovered Rick at a phone booth. (The existence of this statue would be the first in a long line of half-truths people would unwittingly push on us throughout the trip.) After finally finding Rick and a place to stay for the night, we both slept in preparation for our first day in London. In the morning, our first stop was Trafalgar Square. As you can see, we were warmly welcomed by the pigeons. I guess that's what I get for buying birdseed. Actually, at 30 p (~70 cents) it was definitely the best bang for our buck in all of England. It became a running joke trying to guess just how expensive things might be - on the most part things cost double what they do in Canada. Beer was just about the only thing that compared in price, so we made sure we had some.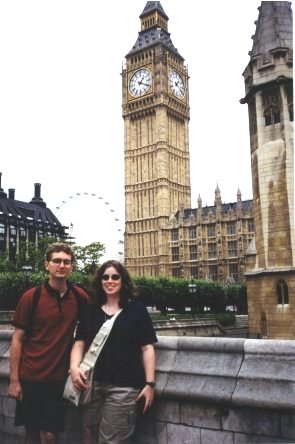 Here we are in front of Big Ben. In the background you can see "The Eye" which is a slow moving ferris wheel from which you can get an excellent view of London. (As we couldn't even begin to guess how much that would cost us, we kept our distance!) We also visited London Tower Bridge, the British Museum, Westminster Abbey and other attractions all with the help of the wonderful "Underground." The subway was very easy to use and helped cut down on our walking significantly. We even developed a certain fondness for the automated voice in the subway that would tell you about the connections and then warn you to "Mind The Gap" when stepping off the train. The subway was also flush with crazy people, most notably the preacher-types including one man from the USA leading around a band of people in capes and pointing out how every advertisement on the subway had to do with salvation. One real benefit to taking the underground was that it cut down on the number of treacherous road crossings we were faced with. All of that traffic plus cars driving on the left was enough to create a couple of close calls. At least the city has put some measures in place to protect its tourists - "look left" or "look right" was painted next to each curb so that you could help ensure a safe crossing. Crossing the street is a much regulated activity in London, which we discovered one night when we had to walk about a kilometre down a street in order to cross it - metal barriers prevented crossing at any other point.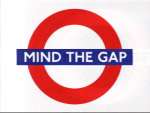 The official symbol of the Underground. Mind the gap. Which gap? Why, the gap between the train and the platform, of course!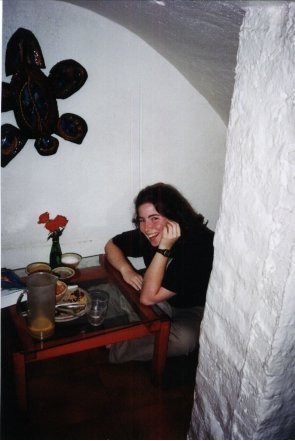 We did a great deal of supermarket shopping throughout our trip, munching on bread, cheese, peanut butter and anything else relatively cheap. This, however, is a picture of our first real dinner in Europe. This is a great restaurant called "Food for Thought" in London. It's an incredible (and cheap) vegetarian restaurant that was recommended by our guidebook. I believe it was the only vegetarian meal of our trip, but we thought it would make all our veggie friends proud! The place was extremely busy, with dozens of people squished into a small space either eating in or waiting in line for takeout. This little cubby-hole with pillows on the floor was the only place left for us to sit. The best part about the restaurant is that you can bring in your own bottle of wine, which Rick (always prepared) did. If only all of our meals could have been this good!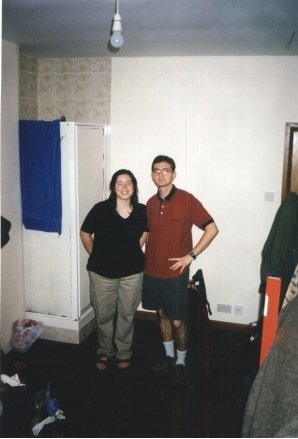 I mentioned above that Rick and I had found a "place to live" in London. When Rick first arrived in London, the first person he spoke to was a guy named Marek who was giving out fliers for a youth hostel in town. The funny thing was that Marek is from Poland, so Rick's first conversation in London was in Polish. (You would be amazed if I told you how many times knowledge of the Polish language came in handy on this trip.) Before finding Rick at the train station, I also ran into someone handing out fliers from this same hostel. Called the "Millennium Hostel," it seemed like a great deal at 10 pounds/night including breakfast and a bus to the hostel (most of the hostels listed in our guidebook cost about 20 pounds/night.) I will tell you right now, beware of hostels that are very cheap and offer free transportation. The minibus we took to the hostel took about 25 minutes, so this place was definitely NOT close to the centre of town. The place was pretty full, and there were 8 people (4 bunk beds) in each room. Things were fairly neat and clean, but the shower (pictured here) was INSIDE the room. I was the only girl in the room, so this was very awkward. In the morning, we found out that the free breakfast included 2 slices of dry toast and a cup of tea or coffee. If you arrived at breakfast really early, you could get lucky and find some jam or butter on the table. If you arrived not-so-early, you were stuck with dry toast. Yummy. All in all, we were pretty discouraged staying in this hostel. The main reason for this is that most of the other guests were people our age struggling to look for jobs, most of them form other countries without UK work permits. It was pretty depressing. We also found out that the guys handing out fliers for the hostel had to get 5 people to stay at the hostel each night in order to get their own night's stay for free, and that they made only 2 pounds for each additional person they convinced into coming. Luckily this was the only hostel experience that was disheartening - every other hostel we stayed in was filled with happy backpackers instead of depressed people.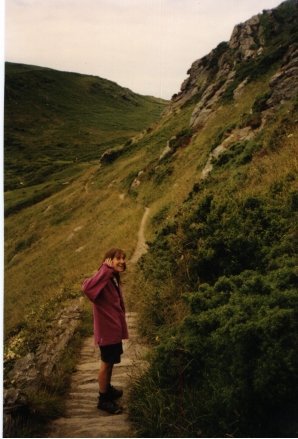 Many of you who went to university with us will recognize this smiling face! After leaving our cheap digs in London, we headed southwest to Taunton to visit Ali Kerridge. She is living just outside of Taunton in Trull with her pal Rosey. Rosey and Ali were wonderful hosts, keeping us fed and introducing us to local delicacies like punishing alcoholic cider that Rick polished off when I couldn't drink more than a glass. On top of all this, the girls drove us to the coast for some great hiking. This is a picture of Ali on the coastal trail near Salcombe - she still overflows with energy and practically runs everywhere. Ali was putting her microbiology skills to work in a dairy when we visited, but had spent some months working at a ski resort last year - lucky girl! Rosey teaches at a private school in Taunton, and took us to see some cricket at the school - with her there to explain the rules it almost made sense. Rosey spent lots of time encouraging Rick and I to go to Wimbledon at the end of the week. She was taking her girls' tennis team early one morning to stand in line for tickets - we were surprised that this was possible and decided to consider going. (Actually, I think Rick decided he wanted to go within five seconds, and just spent the rest of the time convincing me!)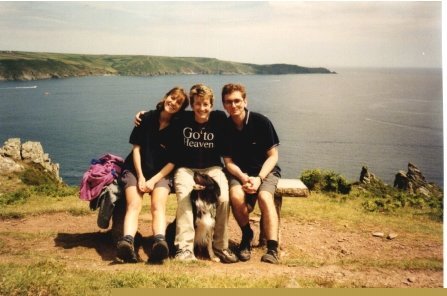 This second picture is also on the coastal trail (Ali, Rosey, Rick)- the handsome guy in the front is Ted, Rosey's wonderful dog. Ted went everywhere with us and even gets to go to school with Rosey each day. The scenery at the coast was amazing. It was hard to believe we were still in England! Some of the residents even grow palms in their gardens. We were even considering going to the beach to wade a bit, but decided on ice cream instead - we certainly deserved it after our hike. I don't think we can thank Ali and Rosey enough for their hospitality, and especially for showing us a side of England that is exactly opposite to London! Ali sends her love to everyone at Brock and we think she'll be back to visit Canada before long - right, Ali? Maybe she'll even convince Rosey to come along...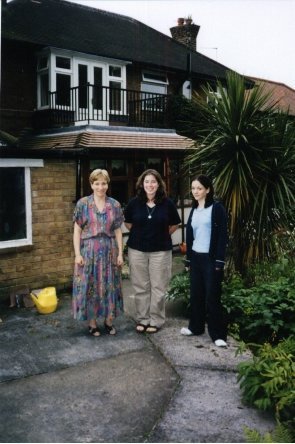 After spending time in Taunton, we headed up to York for some more warm hospitality at the home of the Clarks. (who needs hostels?) Anyone who's been at Brock a bit longer than I may remember James and Catriona - James was a postdoc in Dr. Miller's lab a while back. Now he runs a large research program at York University, and was kind enough to show Rick and I through the chemistry department there. York University made us feel right at home, since it was built in the 60's like Brock was (lots of concrete). We don't have a great deal of pictures of our time in York because I left my camera at Rosey's place, but this one shows Catriona, myself and Lindsay (their daughter). Catriona took Rick and I to Castle Howard - a beautiful old estate near York which was the site for filming "Brideshead Revisited." Rick and I spent most of the rest of the time exploring York on foot - it's a really amazing town with a large portion of the original town wall still intact. Old narrow streets bursting with shops made me wish I didn't have to carry everything I bought! There is an excellent viking museum in York as well, which has a reconstructed viking village complete with smells created by the university chemistry department. We must send out thanks to the Clarks, who looked after us magnificently! Hopefully we will be able to repay the favor someday if Lindsay or Matthew decide to come to Canada...