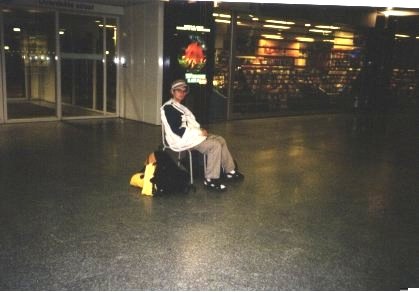 Waiting for our first overnight train from Brussels to Berlin. That night we figured we'd just fly econo and try to sleep on the train sitting up. This was a disaster. In Berlin we arrived so tired we wanted to die.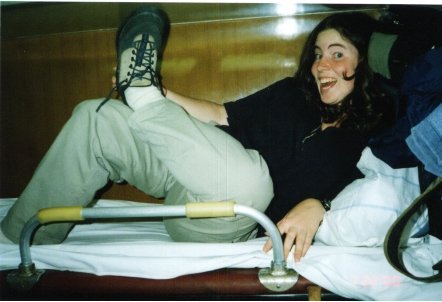 Amy preparing to sleep in her couchette on the overnight train from Dresden, Germany to Paris. This time we'd figured we'd splurge the $25 each or so it costs for the couchette. There's actually six people in the compartment, Amy and I were on the top beds with two people below each of us. This wasn't the best train ride either as we both woke up with headaches. This is likely due to the low oxygen in the room because of six people in tight quarters and the fact that hot air rises and we were on top.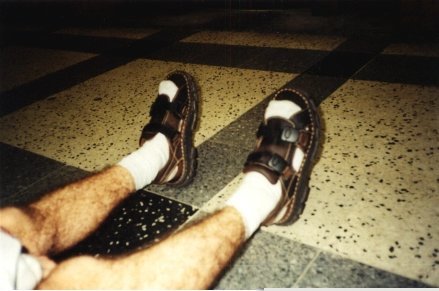 My lovely sandals. They started to give me blisters when I first put them on, so I decided to break them in with socks. (N.B. I made Rick put this picture in - isn't he stylin'?)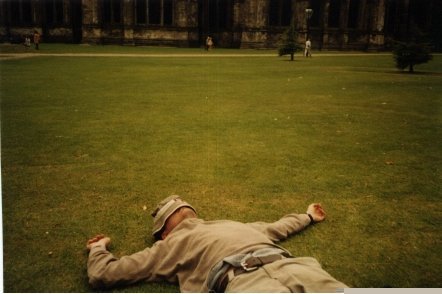 Very important picture from the travel maintenance perspective. It shows rest occurring. As mentioned beside the photo of waiting for the overnight train to Berlin, there are days during travel where one feels extremely knackered. Amy and I felt like this on several occasions, and when we realized that there was no way of getting out of it we would seek grass as quickly as possible and proceed to rest on this grass. Here is Rick in Salisbury, resting after two nearly sleepless nights on the Wimbledon sidewalks. Professional travelers also become experts at assessing and classifying grass in a multitude of categories. Salisbury grass was weedless and short, much like Wimbledon grass.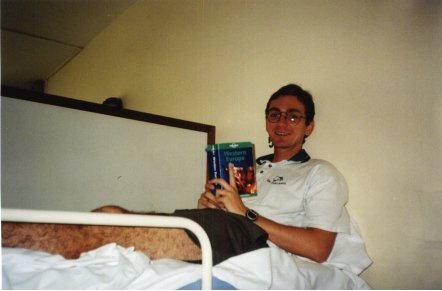 Rick with the Bible in Amsterdam. The Bible, also know as LP or simply 'the book' referred to Lonely Planet's Western Europe travel book. It blows all other travel books by other companies out of the water. It saved our arses on many occasions, including the one in the picture. Presently we are at a hostel found in Lonely Planet. We spent more than an hour calling other hostels and even went to the tourist accommodation office where we heard an announcement that there was no accommodation for under 300 guilders (about $200) per person left in Amsterdam for that night. What did we do then? -- we just put our faith back into LP. All you need is LP, faith, and a whole lot of luck if you travel the way Amy and I did. (Rick forgets to mention that his perseverance had lots to do with our "luck.")
Evolution of the Plecak :
Both Rick and I experienced an unexplained growing of our backpacks. We did not buy anything on our trip, yet still managed to observe a complete change in our ability to squish everything in efficiently. These photos show only three of the many stages of development of Rick's pack. Unfortunately, since Rick always walked ahead of me, no photos survive which document the development of my plecak.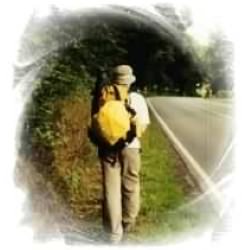 Meissen (coming back from campingplatz), July 15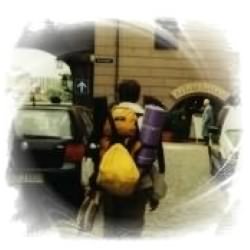 Dresden (before Paris), July 22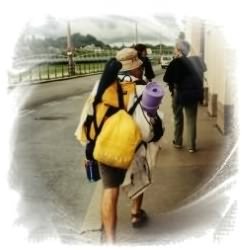 Salzburg, August 8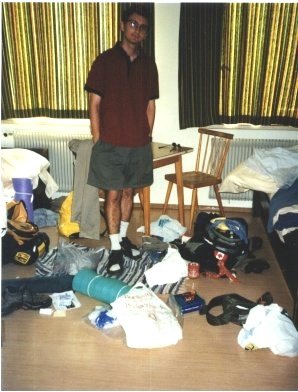 The explosion of the packs. The packs are packed under pressure, much like hairspray or beer bottles. Opening of the pack causes an explosion, as can be seen here. Just remember to stand back.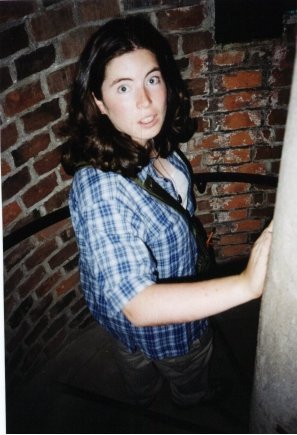 More advice for travelers can be learnt here, directly from Amy's face. This is Amy showing upsetedness towards Rick for taking her picture. But now Amy is happy I always wanted to take many pictures and that I insisted that either of us (or both) be in most of them. It's more fun that way, otherwise you just get postcards. Amy did want to kill me on various occasions for this though, as is illustrated by her face here. (Rick was right - I'm sorry for being such a picture-bitch.)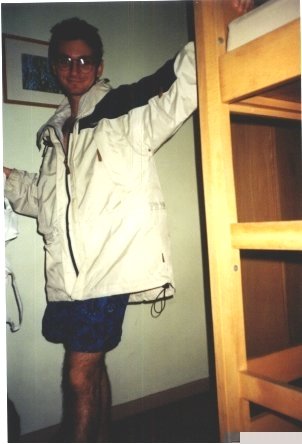 Ah, laundry -- very important. After all, for your own pleasure, for the pleasure of any travel companions, and in the best interest of those you meet along your travels, you want to smell nice as often as possible. This illustrates Rick in his 'laundry outfit'. He is wearing his jacket so that he does not have to wear a shirt and swim trunks so that every last pair of underwear gets washed. (Amy took this shot in a way that best cut out her bra, which she had just surrendered for washing.) When traveling, laundry varies. Of course it's lovely if you can stay with a friend once in a while that lives in the country you are visiting -- this is ideal for getting your clothes washed. Sometimes we washed in laundromats or at laundromats in hostels. Not unoften did we resort to scrubbing by hand at the closest available sink and hanging the clothes up on a string (always carry string) in the window of the hostel.