Rick and I decided to pull a "campingplatz" after Rome. That is, we decided it would be great to go somewhere small in Italy instead of hitting just the big cities. It gets tiring leaping out of the way of mopeds and paying zillions of lira/schillings/deutchmarks for a place to sleep. Rick asked around the hostel in Rome to see if there was anywhere we could go with a beach since he had yet to swim in the sea. Someone told him to go to "Cinque Terre," literally "5 towns." I had heard about this place long before from our pal Colin (hi Colin!) and he had raved about it. We set off for LaSpezia (the biggest town nearby) and crossed our fingers - we had no information about this place and didn't know if we would be able to find a place to stay. In LaSpezia we were given lots of information about Cinque Terre. The five towns are all nestled in the mountains along the mediterranean coast of Italy, and are connected by gorgeous trails that wind through vineyards and give stunning views of the coast. We arrived in the first town, Riomaggiore, unsure about where we would be able to stay. Magically, an old Italian lady with a T-shirt that said "Mama Rosa" approached us saying "Accomodazione?...accomodazione?" We followed her to her little hostel-type establishment and were thrilled to have a place to sleep.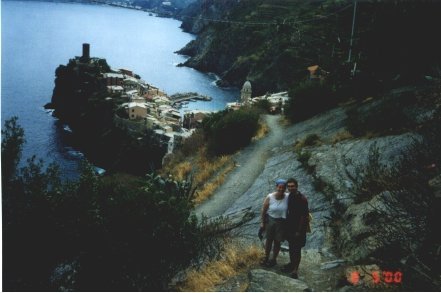 The following day, Rick and I set out to hike the trails that link the five towns. The trails linking the first three towns are not very difficult, but it took about 1.5 hours to hike to the fourth town from the third as the trail was much more rugged and the heat was stifling. Unfortunately, the trail to the fifth town was closed due to treacherous conditions. In this picture you can see one of the typical views along the trails. As you can see, the town is quite literally perched on the mountain beside the ocean, and it is comforting to see that the towns themselves will never grow larger since it is geographically impossible.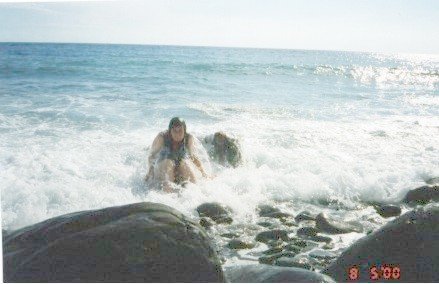 Here is a picture of me on our failed attempt at swimming. The waves here (like the one that has just crashed over my head) were pretty violent, and since everything was rocky we were unsuccessful in our attempt at getting much farther out than where I am pictured here. Rick will tell you that I looked like a piece of driftwood being dashed against the rocks when we tried to go out any further. Fortunately, we did find a much better swimming spot the next day, and spent a long time floating in the sea surrounded by some of the most magnificent scenery I could imagine.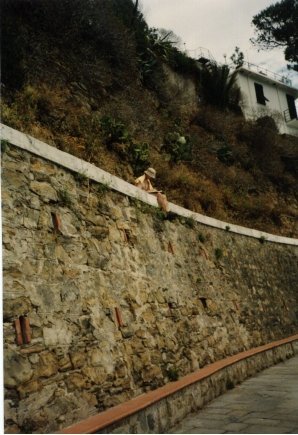 Here is a picture of Rick sitting on a ledge above one of the trails reading. Minutes earlier he had been attacked by the cactus directly above him. Maybe he will describe to you what it felt like, seeing as he was covered in the little prickles from his shoulders to his bum.

(It was not fun. The prickles in my bum were least fun. Having lost my bathing suit to the cactus for the day, I was then forced to walk around in my underwear - my alternate swimsuit).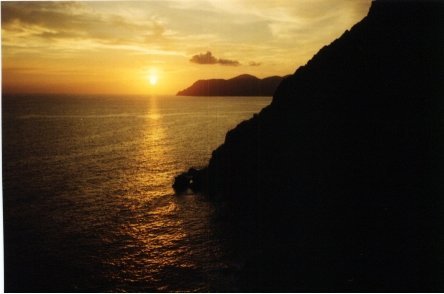 Finally, here we have the typical beautiful sunset in the perfect land of Cinque Terre. We will always remember this place for its fabulous food, its unequaled scenery, its fantastic people (like Mama Rosa) and simply the way it made us feel. I could have easily stayed in those hills forever but we eventually were able to tear ourselves away...