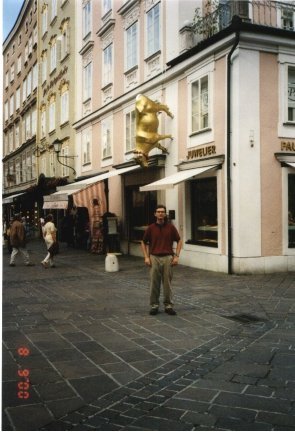 We arrived in Salzburg on a very misty morning and walked to our hostel hoping that we would get to sleep right away. We had had to change trains at about 4:30 in the morning in Innsbruck, and I had not really slept at all! On our way to the hostel, we saw about 50 cows in the streets, equivalent to the moose that dot downtown Toronto. Here is Rick with just one of the cows we saw - and it was not nearly the most bizarre.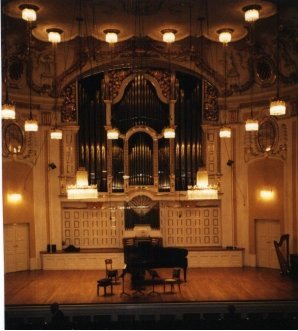 We did laundry and then napped until dinner time, when we rose to eat and then attend a concert at the Mozartium - the gorgeous concert hall you see here. The Mozart festival was in full swing, and although we could not get tickets to any Mozart events we heard some fabulous chamber music by Brahms and Dvorak. A famous cellist named Isserlis from England was the concert organizer and star performer. It had been a long time since we had heard any music at all let alone this, and I was breathless.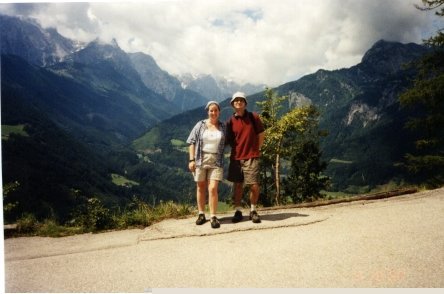 The following day we set off for Werfen, a very small village near Salzburg above which loom gorgeous mountains. One of these mountains (the one you see us standing on) houses the largest accessible ice caves in the world. In order to reach the ice caves, one must take a train to Werfen from Salzburg (50 minutes), walk to a minibus pickup area (10 min), take a minibus up the mountain as far as it can drive (15 min), hike 15 minutes up the mountain, take a gondola even further up the mountain (10 min), and finally hike 15 minutes more. Even the rock outside the ice caves was cold to the touch, and the caves themselves were fantastic. We took a tour that lasted over an hour, and I wish we could tell you more about the caves except that the tours were all in German. The place was beautiful, and the temperature inside was about 0C. (We did bring sweaters.)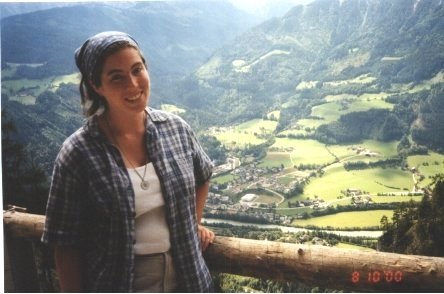 This is me on the mountain with Werfen far below. I think we were about 1800 metres above sea level. Breathtaking. The expression on my face is a fake smile - I was bitching at Rick for taking too many pictures! Upon returning to Salzburg we were able to go to Mozart's house and walk the very floors that the great composer once walked himself. His piano was even there, and lots of memorabilia including letters he wrote and original scores.